Here is your ultimate guide to Parisian style. Whether native or resident, Parisian women have an undeniable sense of style. Being French and having lived in Paris for several years, I am thrilled to share with you the secrets of Parisian chic in today's article. You will learn what truly defines Parisian style, how to achieve it, what Parisians typically wear, and what they avoid.
One thing that sets Parisians apart is that they never look like they're trying too hard with their outfits or spend hours getting ready. So what's the secret behind their effortlessly chic style? Keep reading to find out.
What is Parisian Style?
Parisian style is "chic décontracté" (casual chic). It's all about mixing classic and timeless pieces with more sophisticated and dressy items —whether it's a designer bag, a silk scarf, a piece of jewelry, or a chic pair of shoes. To avoid looking overdone or overdressed, clothes fit comfortably, and accessorization is generally kept to a minimum.
Parisians prioritize timeless pieces over trendy items. Think button-down shirts, straight-leg denim, trench coats, or loafers, the kind of classics that might look boring for some but are so versatile they can be worn in any season and for any occasion. Additionally, les Parisiennes seek out high-quality pieces, considered sometimes as investments, that will stand the test of time.
This style exudes a certain "je ne sais quoi," a nonchalant and cool attitude but never arrogant. The secret lies in the way Parisians incorporate masculine pieces into their outfits, creating truly effortless chic looks. Keep scrolling below for all my tips on how to achieve that coveted Parisian style.
How To Achieve Parisian Style
1. Go "Au Naturel"
Parisian style is all about achieving a balance between looking polished and a little bit undone, "au naturel." Many Parisians choose not to wear any makeup, or if they do, they prefer a subtle look that is barely noticeable. Rather than foundation, they opt for a tinted moisturizer or concealer where necessary. A little bit of blush or bronzer, a layer of mascara to wake up the eyes, a tiny bit of lip balm, et voilà! Les Parisiennes will always prioritize skincare over makeup.
Similarly, Parisians take a less-is-more approach to their hair. They prefer a natural, slightly undone look. And instead of spending hours blow-drying, many choose to sleep with wet hair to achieve the desired look. Parisians prefer simple hairstyles that appear effortless and embrace their natural hair texture. In addition, some Parisians wear their natural grey hair as part of their style.
2. Master The "Chic-Décontracté" Dress Code
Parisian style is often described as "chic décontracté" (casual chic). Les Parisiennes know exactly how to effortlessly mix classic, essential items with more sophisticated and trendy pieces. Think trench coats thrown over relaxed jeans, tailored pants with white sneakers, or blazers with wide-leg trousers. To avoid appearing overdressed, Parisians tend to opt for clothing that fits comfortably or is slightly oversized.
3. Wear The "Masculin-Féminin" Look
In 1966, Yves Saint Laurent made a groundbreaking impact on fashion by introducing a women's tuxedo suit, now considered the epitome of masculine tailoring. Even after 57 years, this style remains highly popular among Parisians.
Les Parisiennes prefer to steer clear of overly sexy outfits, instead incorporating masculine pieces into their outfits, creating truly effortless chic looks. When wearing super feminine clothes, Parisians add a touch of masculinity, and when sporting masculine outfits, they incorporate feminine elements.
To achieve a modern and effortlessly chic Parisian style, blend masculine shapes with feminine silhouettes, such as tailored pants with a silk blouse, a black leather jacket over a silk midi dress, an oversized button-down shirt with high-rise straight jeans, or a masculine blazer with a waist belt.
4. Invest in Timeless Luxury Items
Parisians are known for investing in high-quality pieces and well-crafted staples. They often pair accessibly-priced pieces from the high street with designer staples that have the ability to elevate any outfit. So their simple jeans, white T-shirts, and button-down shirts never have to work hard since their outerwear, shoes, and handbags do all the talking for them.
When it comes to investing in fashion, Parisians tend to choose luxury pieces that are timeless and will last a lifetime. Fine jewelry, watches, and designer handbags are always smart investments since they hold strong resale value or even appreciate value over time. In terms of style, they prove their longevity by staying relevant season after season.
5. Wear Neutral Tones
Parisian fashion is known for being discreet. To maintain their understated elegance, Parisians avoid pairing too many bright colors together. Instead, they opt for neutral tones and classic shades — white, black, navy blue, grey, brown, beige, burgundy, cognac, khaki, etc. This allows for easy mixing and matching of clothing pieces. Parisians add pops of color through their accessories, such as a colorful silk scarf, a stylish hat, or a chic purse, while keeping the overall outfit discreet.
6. Pay Attention to Details
Parisian fashion is all about attention to detail. Parisians coordinate their outfits meticulously, making sure that every piece matches the others. This means that your top should match your pants, which should match your shoes, and your coat should fit in perfectly as well.
When putting together your outfit, pay attention to the little things, such as the cuffs on your pants, the way you roll up your sleeves, how much of your shirt you tuck in, and how many buttons you leave open. These small details can make a big difference in the overall look of your outfit. Lastly, don't forget the importance of a well-chosen belt to give your ensemble some shape. When shopping for clothing or putting together an outfit, keep an eye out for these important details:
The fabric: look at what the garment is made of and prefer natural fibers like cotton, silk, wool, cashmere or linen, etc., over synthetic fabrics.
The fit: Your clothes should fit perfectly, meaning they should be not too tight, loose, short, and not too long. Get some pieces tailored for you if they don't fit perfectly.
Prints: Keep it classic and stick to prints that won't go out of style, like stripes, plaid, tartan, and houndstooth. Parisians do not wear more than one print at the same time in an outfit.
Accessories: to elevate your outfit, you can incorporate small but impactful details such as lace, bows, silk scarves, hats, or jewelry. Opting for delicate jewelry or a single statement piece is best to avoid over-accessorizing. Parisians tend to keep their accessories minimal for a sleek and stylish look.
7. Review The Trends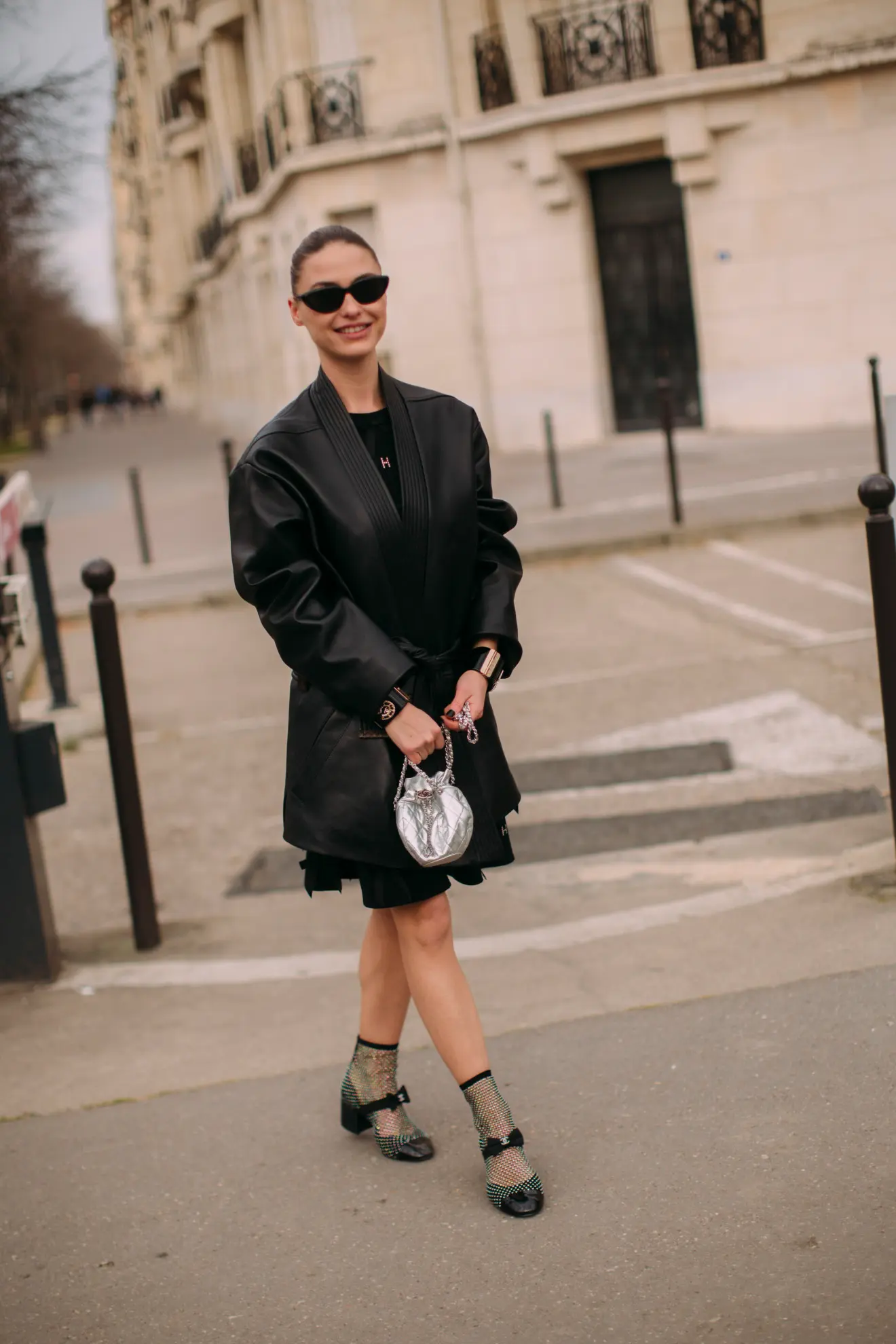 Parisian fashion style is a bit more sophisticated than the classic French style. While French women do not necessarily adhere to current fashion trends, Parisians like to review them and incorporate one or two into their overall look. This may include the latest "it" handbag, trendy shoes, or fashionable accessories. Parisians love to mix classic, timeless pieces with trendy accessories.
8. Find Your Own Style
Parisians have a strong sense of fashion style and strong personalities as well. Even if les Parisiennes love their basics and do not mind sharing them with half of the women in Paris, they also want to be unique and put a lot of effort into that. They create their own individuality through details by seeking vintage pieces and lesser-known brands ("marques confidentielles"). Parisians exude confidence in their fashion choices and always leave the house feeling comfortable and self-assured. They just own it. That is the Parisian way.
---
I independently select all products featured on Leonce Chenal. If you buy something through my links, I may earn an affiliate commission, at no cost to you. I only recommend products I genuinely love.
Must-Have Parisian Style Pieces
To help you achieve that Parisian chic style, I've compiled a list of the essentials that are found in every Parisian wardrobe —and on every street in Paris ;). I added convenient shopping recommendations for each piece.
Tops

Bottoms & Dresses

Outerwear

Shoes

Bags & Accessories

Where to Buy Parisian Style Clothes
If you're interested in adding a few Parisian staples to your wardrobe, here are some of my favorite Parisian brands I recommend:
Clothing: Sézane, Sandro, Maje, ba&sh, Loulou Studio, Isabel Marant, Rosaé Paris, Chloé, The Frankie Shop, Marie Marot, Figaret, CQFD Paris
Shoes: Roger Vivier, Souliers Martinez, Veja, Nomasei, Carel, Bobbies
Bags: A.P.C., Polène, RECO, Atelier Auguste, Amélie Pichard, Celine, Longchamp, Saint Laurent, Michino Paris
What to Avoid
Sweatpants, lycra leggings, and any gym wear —Parisians, well-known for their discreet style sense, generally don't wear sporty clothing except at the gym
Belt bags, fanny packs, and backpacks (especially in the Parisian Métro for safety reasons)
Too-revealing or too-short dresses
Flip-flops, socks with sandals
Ball caps
Any T-shirt or sweatshirt printed with "I love Paris"
Anything overly loud, colorful, or branded (it can potentially make you a target of pickpocketing or other scams)
Flashy colors and too many prints altogether.
Leonce Chenal
Bonjour! I'm Leonce, a French native and the founding editor of Leonce Chenal, a modern lifestyle platform for lovers of everything French. With my previous experience working for top tech companies in London and Paris, I created this platform in 2018 to offer discerning Francophiles an authentic experience through carefully curated content about French fashion, beauty, and lifestyle. Merci for visiting, and à bientôt!