Here is the most delicious traditional French crepes recipe! In France, crêpes —a cousin of the American pancake but much thinner— are traditionally served on Candlemas (La Chandeleur), February 2nd. This Catholic religious holiday is exactly 40 days after Christmas, but it also has origins in an older pre-Christian holiday celebrating the harvest and marking the midway point of winter.
Nowadays, la Chandeleur is mostly known as the day of the crêpes. It's a day when families and friends all make crêpes and enjoy them together. And there are certain very particular ways to eat your crepes, according to French tradition. First, you're supposed to eat crepes at dinnertime instead of breakfast. And along with the sweet or savory crepes, it's traditional to drink cider out of a round bowl instead of a glass.
Crepes are a very common food in France and are not only easy to make but can be served any way you want. You can enjoy them for breakfast, dinner, brunch, dessert, or as a snack. But do you know the difference between a crêpe and a galette?
Crêpes or Galettes?
A crêpe is a thin, white wheat (usually) sweet pancake whereas a galette is a crêpe au blé noir a thin dark buckwheat savory pancake. In France, crepes are served with a sweet filling, such as jam, chocolate, sugar, honey, chestnut spread (crème de marrons), or whipped cream. Usually, a French family will set up their whole sweet pantry on the table and let everyone make their own preparations. On the other hand, galettes are traditionally served with ham, eggs, and cheese for the main meal. There are countless different recipes from andouille sausage to vegetables and even raclette. Note also that the word "galettes" can refer to Brittany cookies and there is also "la galette des Rois" a.k.a the French King Pie.
How To Make Traditional French Crepes
It's really easy to make French crêpes, it takes only a couple of minutes to make the batter and less than a few minutes to cook. To cook the perfect crepes I'll recommend using a non-stick frying pan like the De Buyer's French Crepe Pan, which offers the perfect cooking surface for creating, flipping, and plating perfectly thin, crisp, and delicate crepes every time. Read on to see the most delicious traditional French crepes recipe.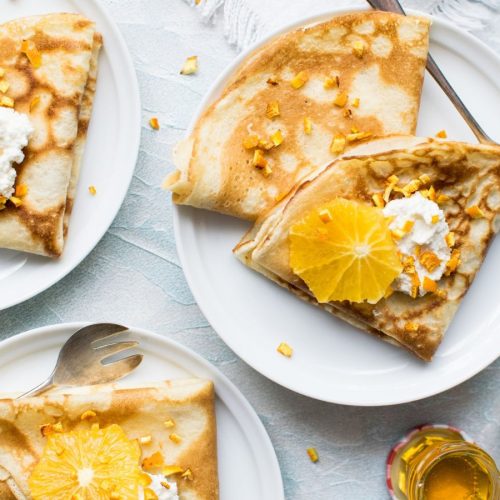 The Traditional French Crepes Recipe
Enjoy these delicious French crepes for breakfast, dinner, brunch, dessert, or as a snack. 
Prep Time
10

minutes
mins
Cook Time
15

minutes
mins
Resting Time
30

minutes
mins
Total Time
55

minutes
mins
Ingredients
250

g

flour

4

eggs

0.5

L

milk

1

tbsp

sugar

50

g

butter

1

pinch of salt
Instructions
In a large mixing bowl whisk the flour, sugar, and salt until combined. Then create a well with dried ingredients and add the eggs. Gradually pour in milk, whisking to combine after each addition.

The batter should be fairly fluid. If it seems too thick, add a little more milk. Then add the melted butter, mix well. Let the batter stands at room temperature until slightly bubbly on top, 30 to 60 minutes.

Heat a non-stick pan. Add butter to coat. Pour 2-3 tablespoons of batter into the center of the pan and swirl to spread evenly. Cook for 2 minutes, then flip and cook 1 minute more.

Lay them out flat so they can cool. Continue until all batter is gone. After they have cooled you can stack them and store them in sealable plastic bags in the refrigerator for several days or in the freezer for up to two months. When using frozen crepes, thaw on a rack before gently peeling apart.
Disclaimer: I independently select all products featured on Leonce Chenal. If you buy something through my links, I may earn an affiliate commission, at no cost to you. I only recommend products I genuinely love.
Leonce Chenal
Bonjour and bienvenue (welcome) to Leonce Chenal, a modern lifestyle platform created and curated by a French woman for lovers of everything French. My name is Leonce, and I'm originally from Annecy, France. I created Leonce Chenal to share my love for France and the French art de vivre (the art of living) with you. I genuinely hope my enthusiasm for this beautiful country encourages you to experience its wonders for yourself. Merci for visiting. Bien à vous, Leonce.