Here is your ultimate guide to experiencing Paris like a local! Whether you are visiting Paris for the first time or looking to explore Paris like a true Parisian beyond the tourist sites, this guide will have you feeling like a local in no time.
But first, here is a little about me: I'm French and I lived for several years in Paris both for studies and work. The first Parisian apartment where I lived was a tiny but beautiful Haussmanian flat of 25m2 (270 ft2) at Rue de Saussure in the 17th arrondissement (5 minutes walk from the metro station Villiers). I really enjoyed living there, this district of Paris is really great for families and young adults. Then, I lived in the 4th arrondissement, and more precisely on the Île Saint-Louis, at Rue des 2 Ponts (literally in English "the street with two bridges"). This street is in the middle of the Pont Marie (in direction of the Marais) and Pont de la Tournelle (in direction of Saint Germain).
That is why, based on my Parisian experiences, I wanted to share with you all of the less spoken of, and locally-based sides of the city. In this Paris city guide, you'll find all of my favorite arrondissements, places to stay, to eat and drink, the hidden gems, to truly experience the best of Paris like a local.
TABLE OF CONTENTS
1. Best Times To Visit Paris
June – August
There's no better time to enjoy the city's famed café culture and the banks of the Seine than in summer. Year-round, you'll find locals kicking back all along the banks of the Seine but never more so than on warm summer evenings with a picnic and bottle of wine. During summer, there is much more to do in Paris than at other times of the year. The season yields free outdoor movie experiences and complimentary concerts. Not only that but a man-made beach is formed along the Seine for sunbathers (called "Paris Plage"). Keep in mind that you'll be sharing the City of Lights with plenty of other tourists.
If summer is the primary tourist season, some smaller museums along with many boutiques, antique shops, restaurants, and art galleries close during August, the month when many Parisians leave the city for their own vacations.
Key Events
Fête de la Musique (June 21): Free music concerts take to the streets and parks of Paris to celebrate the summer solstice.
Le Tour de France: Your chance to see the dramatic final day as the cyclists circle the Champs Elysées.
Bastille Day (July 14): In Paris, the military parade starts at 10 am on the Champs-Elysées. The Eiffel Tower fireworks show starts at 11 pm.
Paris Plage: the "beaches" along the Right and Left Bank of the Seine, sports in front of Hôtel de Ville, and swimming and water sports at Bassin de la Villette – open only for two months between early July and early September.
Assumption Day (August, 15): Taking place the evening before is a river procession along the Seine with a special Mass at Notre Dame on the 15th. Most stores and services in Paris are closed on this day.
September – October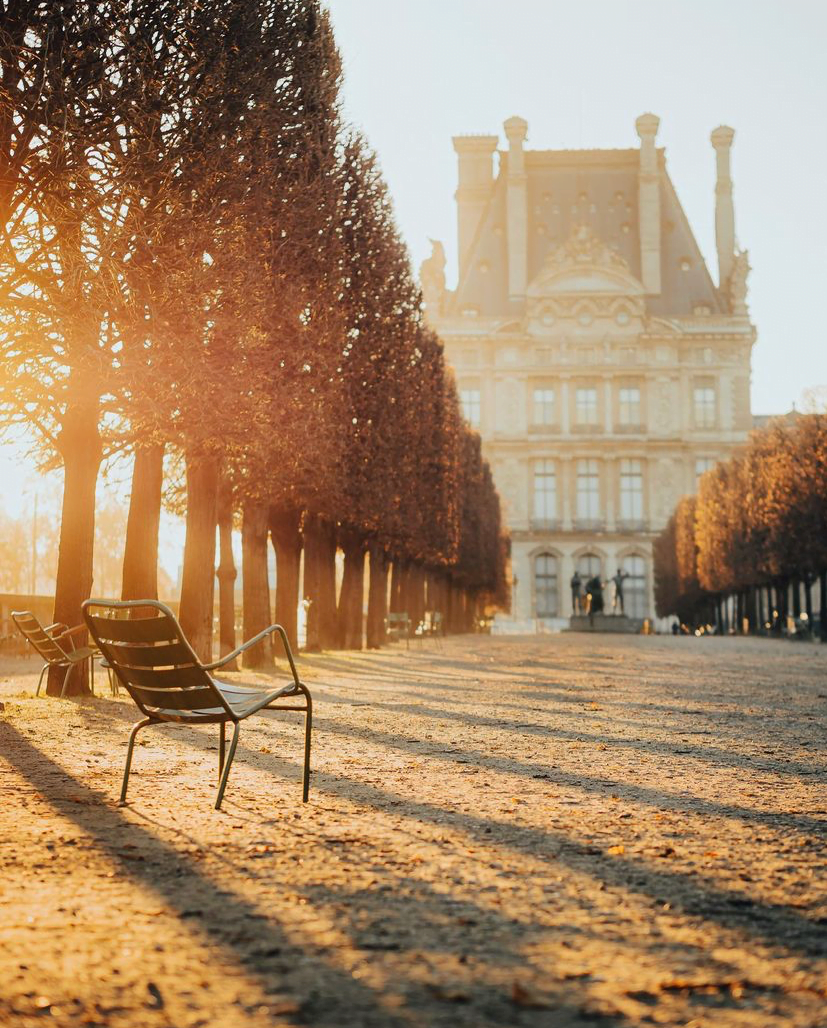 If you're wanting to experience fewer crowds while in Paris, but don't want to give up good weather, fall is your best bet. Along with shorter lines to top attractions, travelers will also benefit from the beautiful seasonal foliage.
Key Events
Paris Fashion Week (September).
La Fête des vendanges de Montmartre: It's the only wine harvest and festival in Paris, held near the one remaining vineyard in Montmartre.
Nuit Blanche – White night: Stay up until dawn exploring the museums of Paris for free.
FIAC, International Contemporary Art Fair: A world of wonderful contemporary art displayed at the fabulous Grand Palais.
November – December
Sights are quieter and prices are lower during winter, making it a great time for budget travelers. While the weather is mostly rainy and chilly, snow is quite infrequent. Twinkling fairy lights, brightly decorated Christmas trees and shop windows, and outdoor ice-skating rinks make December a magical month to be in Paris.
Key Events
La Toussaint – All Saint's Day (November 1): A Christian day of remembrance of all saints and martyrs.
Armistice Day (November 11): France honors its war dead with a military parade from the Arc de Triomphe down the Champs-Elysées.
Beaujolais Nouveau: Fireworks, festivals, and music start on the 3rd Thursday in November to mark the arrival of the new vintage of Beaujolais.
Marchés de Noël – Christmas Markets: Celebrate the season by visiting a few of the many annual markets throughout the city with items for Noël!
Where to see the best Christmas Windows: Galeries Lafayette, Printemps, Le Bon Marché, Le BHV, Faubourg Sainte-Honoré, Avenue Montaigne, Place Vendôme.
March – May
Spring (especially April and May) is ideal for visiting Paris, as crowds will be thinner, but the weather will be nice. While temperatures may still be a bit chilly until May rolls around, travelers will be rewarded with the colorful spring flowers that permeate Paris' beautiful parks. You'll begin to see the first hints of spring by early March when the earliest cherry trees and magnolias start to bloom and tiny pale green leaves appear on trees and bushes.
Key Events
Semi de Paris – Paris Half-Marathon: The second most popular run (after the Paris Marathon).
Livre Paris: the biggest book fair in France with writers, authors, and publishers under one roof.
Easter: Good Friday and Easter Monday are both French national holidays.
The Annual Paris Marathon: 40,000 runners gather to run the marathon in the world's most beautiful city.
La Foire de Paris: Discover the latest European trends in home interiors, gardens, outdoor activities, wine & gastronomy.
Fête du Travail – Labor Day (May 1): French national holiday.
WWII Victory Day Ceremony (May, 8): The president of France will lay flowers on the Tomb of the Unknown Soldier to honor the liberation of France.
Roland- Garros (May to June) – French Open Tennis Championship: It's the only red clay-court Grand Slam tournament.
Nuit des Musées: Free museum entrance, plus they stay open until the wee hours.
Pentecôte – Whit Sunday and Whit Monday.
2. Where To Stay In Paris
Finding where to stay in Paris can be confusing and stressful, especially if this is your first visit. But first, you need to understand the Paris neighborhoods and how they are set up. This will help you understand my guide and where each location is in a bit more detail when I'm showing you the best places to stay in Paris below.
Paris is set up into 20 arrondissements or neighborhoods. The arrondissements begin with the 1st arrondissement which is located in the center of Paris near the Louvre and unfurl across the city like a wheel or a clock. There is no arrondissement that is better than others, each has its own unique charm and character. Here I'm analyzing their characteristics so that you can find the one that best suits what you are looking for when staying in Paris.
The 1st: Best Neighborhood In Paris For Sightseeing
If you plan to do a lot of sightseeing, stay in the 1st arrondissement. Indeed, many of Paris's most famous landmarks are in this district, and you'll be well-positioned to see many others. Art lovers will enjoy staying in this district near the Louvre Museum, the Musée des Arts Décoratifs, and the Impressionist treasures at the Musée de l'Orangerie. Admire the beautifully stained glasswork of Sainte-Chapelle, stroll through the Tuileries Garden, and enjoy a glass of wine at one of the quaint cafes lining the garden of the Palais Royale. Also, shoppers will delight in discovering the elegant shops along the Rue de Rivoli and the trendy boutiques in the lively Les Halles quarter.
The Place Vendome, the beautiful plaza where Coco Chanel used to live, is also home to the newly renovated Ritz Paris, where you can have a drink at the Hemmingway Bar. You're also within easy walking distance of Notre Dame Cathedral, the Centre Pompidou, Champs-Elysées, and just across the river from the Musée D'Orsay and Saint-Germain-des-Prés. This is one of the most expensive areas to stay in while in Paris but I highly recommend it if you come to spend a few days and want to be close to all the tourist monuments.
Where To Stay In The 1st Arrondissement
The 7th: Best Neighborhood In Paris To Stay For First Timer
The 7th is the perfect place to stay for first-time visitors to Paris! Indeed, in this district, you're a stone's throw away from many of the city's landmarks, including the Eiffel Tower, Parc du Champ de Mars, the Invalides, Musée Rodin, the incomparable Musée d'Orsay, and the cutting edge Musée du Quai Branly to name a few. With some of the most beautiful architecture in the city and the charming market street Rue Cler, you'll experience what most people think of when they envision Paris. The 7th is considered one of the best walking neighborhoods.
Where To Stay In The 7th Arrondissement
The 2nd, 3rd and 4th: Best Neighborhoods In Paris For Shopping
The Marais Neighborhood
The Marais neighborhood dates from the 17th century when noblemen began building large mansions here. Once the haunt of the old nobility, the Marais neighborhood in Paris' 3rd and 4th arrondissements is a popular and thriving community known for its trendy boutiques, restaurants, and wonderful museums. From chic boutiques filled with local Parisian designers, French chains like Sandro or IRO —check the best affordable French fashion brands to shop for—, international brands, or more upscale shopping, Le Marais caters to both men and women at almost every price point. And if most tourists head to the Galeries Lafayette, stylish Parisians prefer to shop at BHV (short for Bazar de l'Hôtel de Ville).
Be sure to visit the Musée Carnavalet, dedicated to the history of Paris. Le Marais is also home to the Musée Picasso, containing an unparalleled collection of works by this famous modern artist. Don't forget to visit the tiny Île de la Cité and Île Saint-Louis where the history of Paris begins. And don't miss peaceful Place Dauphine on the Île de la Cité with its lovely cafés and restaurants.
Where To Stay In The 3rd And 4th Arrondissements
The Sentier Neighborhood
Even though the 2nd arrondissement is the smallest of Paris's 20 districts and overlooked by many guidebooks, it actually packs in lots of interesting things to do and see into its small size. You can explore the city's largest concentration of 19th-century historic glass-roofed arcades (Galerie Vivienne, the Passage du Grand-Cerf, and the Passage Choiseul), and dine in the popular Asian restaurants along Rue Sainte-Anne, and buy cheese, wine, and baguettes in the wonderful pedestrian-only Rue Montorgueil market street. Also, don't forget to visit Stohrer the oldest still-in-operation boulangerie in the entirety of the capital which has been in business since 1730 when it was founded by Louis XV's pastry chef.
At the eastern end of the 2nd arrondissement, you can explore the Sentier neighborhood, still filled with wholesale textile stores and garment manufacturers although they are now losing ground to hip bistros, bars, and upscale hotels. Sentier is definitely one of the best neighborhoods to experience Paris like a local Parisian.
Where To Stay In The 2nd Arrondissement
The 5th And 6th: Best Neighborhoods In Paris For Families
The 6th arrondissement is located on the Left Bank ("Rive Gauche") and is home to the atmospheric Saint-Germain-des-Prés quarter, the Latin Quarter, and the Luxembourg Gardens. The 5th and 6th are highly central with great playgrounds and easily walkable with access to shops, sites, and restaurants. Family-friendly highlights include the National Museum of Natural History and the botanical garden known as Jardin des Plantes.
The 5th is very central —maybe not as connected by metro—, and offers a quieter, village-like feel. The 6th is more artistic and filled with art galleries and antique shops, as well as some of the city's best small art museums. It's also where you'll find the impressive Musée de Cluny and two of Paris' most famous cafés, Café de Flore and Les Deux Magots.
Where To Stay In The 5th And 6th Arrondissements
The 9th And 18th: Most Romantic Neighborhoods In Paris
Lovers of French movie Amélie will adore Montmartre, Paris's pretty 18th arrondissement, home to many of the cult film's quirky brasseries, parks, and cobbled streets (including Café des Deux Moulins at 15 rue Lepic). In the 19th century, Montmartre was a haunt for artists and bohemians including Monet, Renoir, Picasso, Van Gogh, and Toulouse-Lautrec. This neighborhood offers breathtaking views while retaining a quaint, village-like charm. And it's the perfect place for a honeymoon visit or romantic outing. Don't miss the Sacré Coeur, and enjoy one of the best views of Paris.
The 18th is bordered by the more central 9th arrondissement, which is home to the historic Palais Garnier opera house, museums, and theatres. Also, the former red-light district Pigalle has reinvented itself, with trendy SoPi (South Pigalle) a great neighborhood for foodies. Don't forget to wander in the street Rue Notre Dame de Lorette and to visit the Musée de la Vie Romantique.
Where To Stay In The 9th And 18th Arrondissements
Finally, the 8th, 15th, 16th, and 17th are great and safe arrondissements, but these are more residential areas. That's why I would not recommend these places to stay in Paris, especially if you want to be central and in a district easily walkable with access to shops, sites, and restaurants.
Areas To Avoid In Paris
Paris is generally a safe city. However, there are a few places I'll recommend avoiding in Paris when you visit:
The Gare du Nord / Gare de l'Est area at night.
The area around Porte de Montreuil on the 20th district, in the Saint Blaise neighborhood at late hours.
Northern 18th and 19th district, specifically at night, around Marx Dormoy, Porte de la Chapelle, La Chappelle, Porte de Clignancourt, Porte de la Villette, Barbès, Goutte D'or, Chateau Rouge, Stalingrad. Montmartre is a very safe area day and night. Pigalle is safe too, there are a lot of tourists and police there, but maybe you can feel disturbed by the adult shops if you go there with kids.
Around Châtelet Les Halles at night.
The Bois de Boulogne: during the daytime, this park is perfectly safe, because it is very active and crowded, but never under any circumstances should you go there at night. I would recommend that you avoid this area after dark as it has a reputation for being frequented by questionable characters.
3. Eat Like A Local In Paris
Below I've compiled several tips for you to eat like a local in Paris and to avoid the tourist scams.
8 Rules You Should Be Following In Paris To Eat Like A Local
First things first, if the menu is in English, do not go there, it means that the restaurant is targeting tourists, the food will not be that great and the prices will be high.
Avoid eating close to monuments and in most tourist areas, but instead, walk along with quieter neighborhoods and go to local bistros, brasseries, and restaurants.
The best restaurants in Paris always book up fast, so I'll recommend starting to make arrangements for reservations approximately a few months/weeks prior to arriving in Paris.
In Paris, there are two distinct service times: lunch is typically from around 12 until 2:30, and dinner is around 7:30-11 p.m. If you are hungry in between, you can always step into a patisserie or boulangerie.
Seek the "Formule Midi" which is basically a prix-fixed lunch option. This fixed menu, most commonly found during lunchtime and during the business week, typically changes each day while the price stays the same. Also, you typically have a choice of Entrée + Plat (appetizer and main), Plat + Dessert (main and dessert), or you can choose to have all three courses. You can get at least a two or three-course meal for under €20.
Also, I would recommend asking for the "plat du jour" which is the recommended dish of the day on a restaurant's menu.
Do not hesitate to ask for a "doggie bag" if you want to bring leftovers home. It's not a common thing in Paris, but it's always better than leaving an abundance of food on your plate.
The service charge is already included in the price of your food. So an additional tip ("pourboire" in French) is not required. However, some Parisians do leave a little extra for good service (around 2%-5% of the total).
Cafés, Bistros vs Brasseries
Do you know the difference between a bistro and a brasserie? Bistros are often family-owned — Monsieur cooks while Madame runs the dining room and keeps an eye on the cash register, in most cases, though the reverse is sometimes seen, too — and at least in theory moderately priced. The legend says that, when the Russian Cossacks arrived in Paris in 1814, they were entering the cabarets and bars and asked to be served very quickly and Russian for "hurry!" is Bistrot. A bistro is essentially a casual French type of restaurant that served tasteful, inexpensive French traditional food. Some of them can also be gastronomic and Michelin-worthy, they are called "bistronomiques" (a blend of "bistrot" and "gastronomique"). If you want to bring a little of a typical Parisian bistro's essence home, check out the six décors to create a classic French bistro-style kitchen.
Another type of French restaurant you may find yourself in is a brasserie. Brasseries are Alsatian in origin and the word itself is French for "brewery". The original brasseries were either attached to beer-making facilities or were owned by them. So, by definition brasseries are large, noisy places; their menus are typically long, and, whatever else they may offer, there is always beer on tap. So whether for breakfast, brunch, lunch, or dinner, always seek local cafés, bistros, and brasseries to truly experience Paris like a local.
My Favorite Places To Eat In Paris
So, if you want to eat in Paris like a local, here are below a few of my favorite places where to have lunch and/or dinner. These places below are well known to local Parisians and are usually not super touristy.
La Poule au Pot (1st Arr.)
Poulette (1st Arr.)
La Grappe D'Or (2nd Arr.)
Les Enfants du Marché (inside the marché des Enfants-Rouges, 3rd Arr.)
Café des Musées (3rd Arr.)
Xavier Denamur's restaurants —the French restaurateur is a fresh-food campaigner and his Menu are all "fait maison" (homemade)— Les Philosophes (4th Arr.), L'Etoile Manquante (4th Arr.), La Chaise Au Plafond (4th Arr.), Le Petit Fer A Cheval (4th Arr.)
La Rôtisserie d'Argent (5th Arr.)
Chez Gladines Saint-Germain (5th Arr.)
Café Constant (7th Arr.)
Café de la Paix (9th Arr.)
Grand Café Capucines (9th Arr.)
Le Bouillon Chartier (9th Arr.)
Les Arlots (10th Arr.)
Septime (11th Arr.)
Le Servan (11th Arr.)
Le Chateaubriand (11th Arr.)
Bistrot Paul Bert (11th Arr.)
Le Petit Village (17th Arr.)
Mamma Primi (17th Arr.)
Le Bouillon Pigalle (18th Arr.)
4. The Best Non-Touristy Things To Do In Paris
If you want to truly experience Paris like a local, here are the ten best non-touristy things to do in Paris.
Flâne In The Streets Of Paris
The best way to experience Paris like a local is to stroll ("flâner" in French) and to allow yourself to get lost in the City of Lights. Indeed, by far the best activity to do in Paris is to walk. A walk along the Seine will take you to all the places you have always dreamed to see, and will give you a real feeling of the city. You can start at Pont de Bir-Hakeim for a beautiful view of the Eiffel Tower and walk towards it. If you keep going in that direction along the Seine, you will see the famous bridges (Pont Alexandre III), the museums (Louvre, Musée d'Orsay, Grand Palais, the islands (Île de la Cité, Île Saint-Louis), etc.
Take The Time To Enjoy Your Coffee
Sitting in a café and watching the world go by, that's the true richness of life. And Paris is certainly the best place to people watch. Parisians aren't afraid to head to a café alone. So, take the time to see Paris like a local, head to any bistro or café, order your espresso (with a glass of water on the side), and people watch. You'll be surrounded by people chatting, smoking, and doing what everyone else is doing: watching the Paris scene unfold in real life.
Visit Small Historic Museums
Sure the Louvre, the Musée d'Orsay, the Pompidou Centre, and Paris's other major museums are all worth a visit at some point in your life, but if you want to see Paris like a local, see some of the lesser-known museums. Here are a few of my favorite ones:
Musée de la Vie Romantique: housed in a charming hôtel particulier dating back to 1830.
Musée Jacquemart-André is inside an opulent 19th Century mansion.
Le Petit Palais: it was built for Paris' 1900 World Fair and it became a museum in 1902, it's a charming small museum that's easy to cover in an hour or so.
Musée de Montmartre: this former house was once home to the likes of Renoir and dates all the way back to the 17th Century, making it one of the oldest houses in the arrondissement.
Musée Rodin: you can stroll through a lovely verdant garden where you accidentally bump into the artist's masterful sculptures.
Stroll The Markets
If you want to live in Paris like a local, you have to go to one of the many open-air markets that can be found throughout the city! Here are below a few of my favorite ones:
Marché des Enfants Rouges (3rd arr.): the oldest market of Paris since 1615.
Marché Saxe-Breteuil (7th arr.)
The Marché President-Wilson (16th arr.)
Le Marché Saint-Germain-des-Prés (6th arr.)
The Marché aux fleurs on the Île de la Cité (1st arr.)
Head To Paris's Many Parks
While Paris is often accused of lacking in green spaces in comparison with other European capitals, there are still several great spots to choose from. Some personal favorites include the Parc des Buttes Chaumont (19th arr., make sure to visit the guinguette Rosa Bonheur), the Parc Monceau (8th arr.), the Jardin des Tuileries (1st arr.), and the Jardin du Luxembourg (6th arr.). Pretty and filled with follies and greenery, they are the perfect places to hang out, relax and read a book.
Enjoy The View From Galeries Lafayette Rooftop Terrace
If you go to the Galeries Lafayette —one of the oldest shopping establishments in Paris—, make sure to go up to the terrace. There, you will enjoy the magic of the city, its architecture, and of course, the Eiffel Tower right in front of you, and without all the crowds. It's definitely one of the best panoramic views of Paris!
Enjoy Picnic Along The Seine
In the summer months, most Parisians enjoy a picnic along the banks of the Seine. So if you want to experience Paris like a local, head to a local supermarket, pick up some Parisian picnic essentials (French cheese and charcuterie, wine, baguettes), and search for a picnic spot along the Seine. One of my favorite spots is the Place Louis Aragon on the Île Saint-Louis.
Buy Unique Souvenirs At Saint-Ouen's Flea Market
Every Saturday-Monday, Le Marché aux Puces de Saint-Ouen —the world's largest antique market— is open for business. Vendors sell everything from 18th-century dressers to old, leather-bound novels, furniture, jewelry, toys, books, decor, and plenty more odd-and-ends. It's a spectacular place for finding one-of-a-kind Paris souvenirs, though it does get crowded during the early afternoons on weekends.
Go Shopping At Paris's Many Concept Stores
Ever since Colette closed down, concept stores have been popping up all over the city to no end. Here are a few of my favorite ones:
Merci: the most recognized concept store in Paris and indeed one of the largest, Merci has everything French from soap brands to handbags and linen labels.
Fleux: With a privileged place for lifestyle, design, and decoration, its six stores spread over 1,500 square meters unveil an open and sharp selection of furniture, lighting, tableware, clothing, fashion accessories, or high-tech.
Empreintes: With a 600 square meter surface area, 4 floors and over 1000 objects, this concept store situated in the Upper Marais is sure to satisfy all desires, with a number of rare pieces and in limited editions.
nous: Launched by two former members of the late concept store Colette, this place is somewhere between streetwear, high tech, accessories, and books with underground influences.
Frenchtrotters: This place offers the ideal Parisienne wardrobe.
Also, if you love shopping at department stores, Parisians will prefer Printemps, BHV Marais (Bazar de l'Hôtel de Ville) and Le Bon Marché to the Galeries Lafayette.
Wander Through Beautiful Covered Galleries
Here are a few of the best-covered galleries in Paris:
Galerie Vivienne (2nd arr.): an upscale dining and shopping area decked in golden hues.
Passage des Panoramas (2nd arr.): considered to be the first covered walkway in Paris.
The Passage Brady (10th arr.): Also known as "Little India" because of its plethora of Indian shops and restaurants.
Passage du Grand-Cerf (2nd arr.)
The Passage Verdeau (3rd arr.)
Passage des Princes (2nd arr.)
5. Paris Safety Tips
Here's my guide to safety tips for visiting Paris and navigating the city like a local. Paris is generally a safe city, however, there are a few things you'll need to know before visiting.
Beware of fake taxis! When you land in the city, you are going to get many offers from people, offering you a ride to the central city at a cheaper rate. But at the arrival, these scams usually ask you for double money. Always hop into a car with an official taxi sign (it should be written "Taxi Parisien").
Prefer G7 Taxis to Parisian taxis and Uber. Some Parisian taxis and Uber are very rude: either they refuse to take your course or drop you not at the right destination or some of them can take the long road to increase the price of the course.
Men in Paris are not as polite as in the US, some of them whistle at you and weirdly stare. And if unluckily you end up being in the notorious area of Paris, there is a chance of you being chased up or asked by a random French for your number, so be careful.
You need to be careful when withdrawing some cash out from ATMs, especially if you see a group of young people roaming around. They can be a big scam.
The "gold ring scam" is a very common scam in Paris. When you are roaming around the city, you are probably going to hear the tinkle of a metal ring coated in gold color hitting the ground. A lady, who is basically a scam, can ask you about the ring and will insist that you take that ring. When you agree to take the ring, she will demand money and will say that you have bought it.
There are a lot of fake charity collection groups close to the Eiffel Tower and in most touristy areas. They often pretend to be gathering charity for the deaf and mute.
Be careful if there are any protests going on in the place you are planning to go —protests usually take place on the Place de la République. The situation can sometimes go out of hand.
Be aware of your surroundings while sitting in cafés. Valuables on the table (cellphone, camera, etc.) and bags under the table are easily robbed.
Always go to the ticket teller behind the glass to buy a metro ticket and never buy a cheaper ticket in the street.
Bracelet scams are common in Paris. A random person on a crowded street can approach you or even before talking to you, can forcefully tie a friendship bracelet to your hand, and then he'll ask you to pay for it.
Et voilà! I hope this ultimate guide to Paris will help you experience Paris like a local Parisian. If you have any questions or if I'm missing something, please add your comment below.
Disclaimer: I independently select all products featured on Leonce Chenal. If you buy something through my links, I may earn an affiliate commission, at no cost to you. I only recommend products I genuinely love.
Leonce Chenal
Bonjour and bienvenue (welcome) to Leonce Chenal, a modern lifestyle platform created and curated by a French woman for lovers of everything French. My name is Leonce, and I'm originally from Annecy, France. I created Leonce Chenal to share my love for France and the French art de vivre (the art of living) with you. I genuinely hope my enthusiasm for this beautiful country encourages you to experience its wonders for yourself. Merci for visiting. Bien à vous, Leonce.