As the crisp chill of winter envelops the streets of Paris, the French wardrobe undergoes a transformation, embracing the season with both warmth and style. French winter fashion is not just about staying cozy; it's a celebration of timeless elegance, where functionality meets chic. In this article, we'll delve into the essential pieces that define French winter fashion, each a blend of classic design and contemporary flair. From the sophistication of the long black coat to the coziness of the cashmere sweater, these winter essentials will ensure your style remains as crisp as the winter air. So without further ado, join me as we explore the must-have items that are the cornerstone of any French winter wardrobe, accompanied by personal favorites to help you capture the essence of Parisian chic this winter ;).
---
I independently select all products featured on Leonce Chenal. If you buy something through my links, I may earn an affiliate commission, at no cost to you. I only recommend products I genuinely love.
1. The Turtleneck Sweater
Versatile enough to be worn alone or layered under various outfits, the turtleneck sweater offers both warmth and style. Ideal for a polished look under a blazer or casually tucked into trousers, it also pairs well with a white bouclé jacket (as seen in Chloé's FW23 collection), or even beneath a button-down shirt for a chic-décontracté look. Opting for a slim cashmere turtleneck in classic colors like black, navy blue or beige ensures easy matching with winter coats. Extra style points if you're sporting a French short bob, as it'll make your turtleneck look even more sophisticated.
In winter, my go-to turtlenecks are the Sézane Jacob jumper, a long-sleeved, merino wool piece with a high neckline and shoulder button placket made in Italy. And the Sandro roll-neck wool sweater, a 100% wool knit from the brand's unisex collection, for which I size down to XS from my usual Sandro size M.
2. The Elegant Long Black Coat
The long black coat stands as an emblem of timeless sophistication, much like the iconic little black dress. This garment, essential to any winter wardrobe, particularly shines in its versatility. Ideal for the office, its elegance seamlessly transitions to evening soirées, embodying the essence of Parisian chic. The Autumn/Winter 2023 runways have reinvigorated this classic with a nod to tailoring. This season's rendition is characterized by a striking silhouette, featuring prominently defined shoulders and an oversized design that elegantly drapes just above the ankles.
This season, I'm captivated by three long black coats: the first is a chic Sandro coat with cross-buttoning and a velvet collar (which I plan to buy this season). The second is another elegant Sandro piece with satin collar detailing, perfect over a petite robe noire for a holiday soirée. And finally, the Totême signature wool and cashmere-blend coat, distinguished by its shawl collar and graceful drape.
3. Pinstriped Wool Pants
Pinstriped wool pants are an indispensable part of a French winter wardrobe, offering both warmth and a polished appearance. Their fine texture and structure make them an ideal foundation piece for winter, capable of elevating any outfit with an air of sophistication. For a quintessentially Parisian chic office ensemble, consider pairing a turtleneck sweater (my favorite is this Sandro roll-neck sweater) tucked into pinstriped wool pants, complemented by a white button-down shirt and with loafers (my favorites are Tod's Gomma Pesante embellished glossed-leather loafers).
This season, I'm particularly fond of several pinstriped pants. First, the Giuliva Heritage Cornelia wool straight-leg pants, handcrafted in the brand's Italian atelier and which features a dark-gray wool contrasted by red and pink pinstripes. Another favorite is the Nili Lotan Anatole pinstriped herringbone straight-leg pants. Additionally, Sézane's Loulou trousers, in navy and ecru stripes, offer a distinctively elegant option. Lastly, the Ralph Lauren Collection pleated pinstriped wool straight-leg pants are a standout, especially when worn with the matching blazer. Made from lightweight gray wool with tonal pinstripes, they feature a high waist and sharp pleats along the straight legs, epitomizing the blend of comfort and style essential in French winter fashion.
4. The Long Knitted Dress
A knitted dress is a French winter essential, adored for its versatility and comfort. This season, my top picks include Sézane's Harper dress, a long-sleeved merino wool midi dress featuring a high neckline and a unique slit at the bottom closed by a button placket. Another favorite is Isabel Marant's Adrienne cable-knit merino wool-blend turtleneck midi dress, which stands out with its 3D-effect cable-knitting along the center. For those who prefer a classic style, Allude's ribbed cashmere turtleneck midi dress is an excellent choice. Its timeless design and luxurious fabric make it a sophisticated option, ideal for pairing with chic equestrian-style knee-high boots.
5. The Pinstriped Coat
The pinstriped coat has emerged as a beloved winter staple in French fashion, with labels like Loulou Studio at the forefront of this trend. One of my ultimate favorite pinstriped coats this season is the Loulou Studio's Ido coat (it also exists in navy blue), which combines soft organic wool and cashmere in a relaxed, double-breasted style. Pair it with the matching Amoya pants and vest to create an effortlessly stylish Parisian ensemble. The pinstriped coat is ideal for those seeking to infuse their winter wardrobe with a smart, stylish piece that captures the essence of contemporary fashion while maintaining the timeless allure of French style. Its versatility and chic design make it a must-have for anyone looking to elevate their winter fashion game.
6. The Cashmere Sweater
The cashmere sweater is a cornerstone of French winter fashion, revered for its timeless elegance and unparalleled warmth. Be it roll-necked, half-zipped, round, or V-neck, the classic cashmere sweater remains a perennial favorite for the coldest months. This winter, embracing cashmere sweaters in cream or ivory shades can add an effortlessly chic Parisian touch to your wardrobe. These sweaters pair perfectly with navy blue or grey pinstriped pants for a refined office look or with tapered jeans and two-tone ankle boots for a more casual yet stylish ensemble.
Among my favorite sweaters this season is the J.Crew ribbed cashmere turtleneck sweater. Its relaxed fit and cozy turtleneck make it a go-to choice for continuous wear throughout the season. Another cherished piece is the J.Crew cross-stitch crewneck sweater. This cashmere crewneck, cozy and ultrasoft, features intricate cross-stitch detailing and a slightly cropped fit that hits above the hip, offering both comfort and style.
7. The Wool Fedora Hat
Inspired by vintage menswear, the wool fedora hat suits all face shapes and comes in various brim sizes, making it universally flattering. Its ability to harmonize with the color of your coat will add a touch of sophistication. Renowned for its elegance and practicality, the wool fedora is an indispensable addition to any winter wardrobe, embodying the chic, effortless style synonymous with French fashion. Should you be considering an investment in a fedora hat this winter, one that endures beyond a single season, I strongly suggest exploring Maison Michel, a Parisian couture milliner esteemed for its quality. Maison Michel is a distinguished member of Chanel's Métiers d'Art collective, a testament to its excellence and enduring craftsmanship.
8. A Pair of Leather Gloves
In the colder months, leather gloves provide necessary warmth without compromising on style, making them a must-have in any winter wardrobe. The versatility of leather gloves allows them to complement a variety of outfits, from casual to formal, enhancing the overall sophistication of your winter attire. For those seeking the epitome of craftsmanship and style in leather gloves, I highly recommend the French label Agnelle. Renowned for their exceptional quality, Agnelle has been crafting leather gloves in their Saint-Junien factory since the late 1930s, with traditional techniques passed down through four generations. Each pair of gloves is a work of art, meticulously handcrafted using 19th-century tools, requiring over three hours to complete.
9. Classic Ankle Boots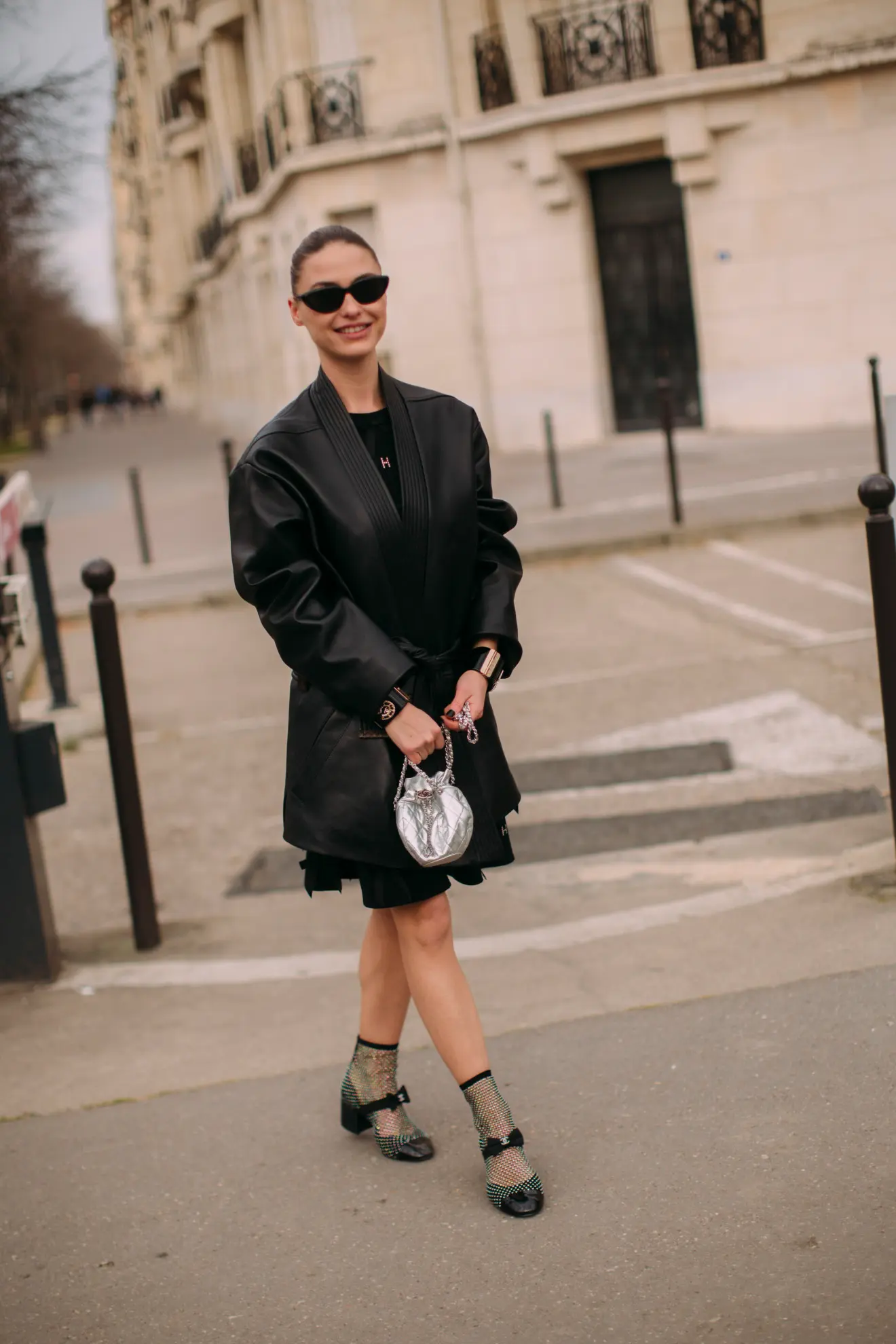 There is no safer footwear option than the classic ankle boots or "bottines à talon carrés" in French. Not only are they the ideal pair of shoes for almost any time of the year, but those stylish shoes can suit many looks and can easily be dressed up or down. Whether styled with jeans, pinstriped wool pants, or knitted dresses, ankle boots will add sophistication to any of your winter outfits.
If you're after something to replace your trusty loafers in the winter months, consider opting for these très chic Chloé's Marcie ankle boots. To add a touch of sophistication to your winter ensembles, opt for two-tone ankle boots like these Carel Estime navy blue and white ankle boots (which I added to my wishlist). I also have a coup de coeur for these iconic Chloé Susanna studded leather ankle boots.
10. Chic Equestrian-Style Boots
The equestrian boot, inspired by Hermès' iconic Jumping shorter boot, has emerged as a noteworthy trend this fall and winter season. The equestrian style is particularly well-suited for the colder months due to its refined yet sturdy construction. The tall, streamlined design not only offers additional warmth but also seamlessly blends with a variety of autumnal and wintery fabrics such as tweed, wool, and cashmere.
This season, I absolutely adore Loro Piana's Decker knee boots —crafted in the label's Italian atelier from butter-soft leather— and Tod's embellished leather knee boots made from supple leather. For a très chic Parisian look, consider pairing your favorite equestrian-style boots with black stirrup leggings and an oversized poplin shirt. Add a long elegant overcoat like this sublime Totême Signature coat made from a blend of wool and cashmere or this chic Sandro coat with cross-buttoning and a velvet collar. Et voilà!
Leonce Chenal
Bonjour! I'm Leonce, a French native and the founding editor of Leonce Chenal, a modern lifestyle platform for lovers of everything French. With my previous experience working for top tech companies in London and Paris, I created this platform in 2018 to offer discerning Francophiles an authentic experience through carefully curated content about French fashion, beauty, and lifestyle. Merci for visiting, and à bientôt!